Understanding IP ratings for food inspection equipment
All Loma inspection systems are designed with IP ratings in mind, to ensure the right protection for your production environment. This guide helps ensure you know what IP ratings are and the protection each offer.
What are IP ratings
"International Protection Rating" or "Ingress Protection Rating" is an international standard. An IP rating is a two-digit grading system used to define levels of sealing effectiveness of electrical enclosures against moisture, solid items, tools and dirt.
What do the numbers in the IP rating mean?
IP ratings are made up of two numbers, with the first referring to the ease of solids getting into the product and the second referring to moisture protection.
The first figure refers to protection from solid particles, the below chart provides examples of the scale.

The second figure relates to protection against liquids and moisture with the table below showing protection increases the higher the number.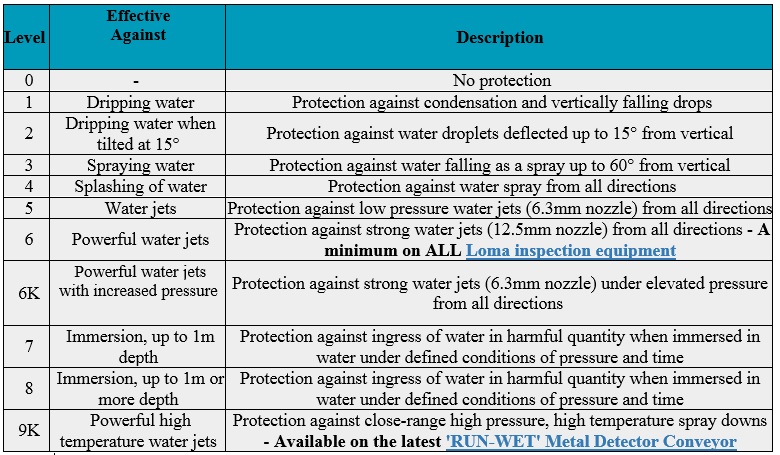 A word of caution with IP ratings
The criteria for awarding IP ratings is potentially open to misinterpretation as testing processes are not all the same. For example, with IP65 and IP66 the test stipulates water is sprayed from 3-metres, however in reality factories are likely to spray at a much closer distance.
Summary of Loma IP ratings
Loma inspections systems are IP66 rated as standard and for high-care environments that might be wet or dusty, then IP69k equipment is available. Speak to Loma's expert team for advice on the right IP rating to meet your production, safety and cleaning requirements.