Warehousing techniques
Through constant progress, development and continuing experience in large production systems we have managed to expand our product portfolio by including the world renowned manufacturer of warehousing techniques and complete warehousing solutions CONSTRUCTOR GROUP with their leading brand of products DEXION. As a general representative, authorized distributor and service partner of the wide range of products from the company DEXION we offer unique solutions tailor made to your requests with continuous control and monitoring on our side.
Hi280 – Standard – Handling smaller parts
The design of our Hi280 shelving system uses a patented method of construction. The design is based on the smallest possible number of components; poles and shelves made from high quality galvanized steel provide the base for the system.
The variety of applications is limitless - Hi280 can be constructed as a traditional shelving system or as a tall construction with floors between levels.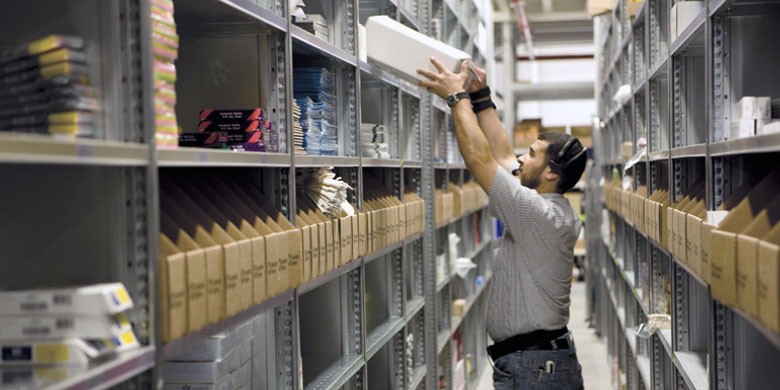 Hi280 – Movable – Handling smaller parts
The shelving system Hi280 has great universality when combined with the movable system Compactus®, offering the most compact warehousing system.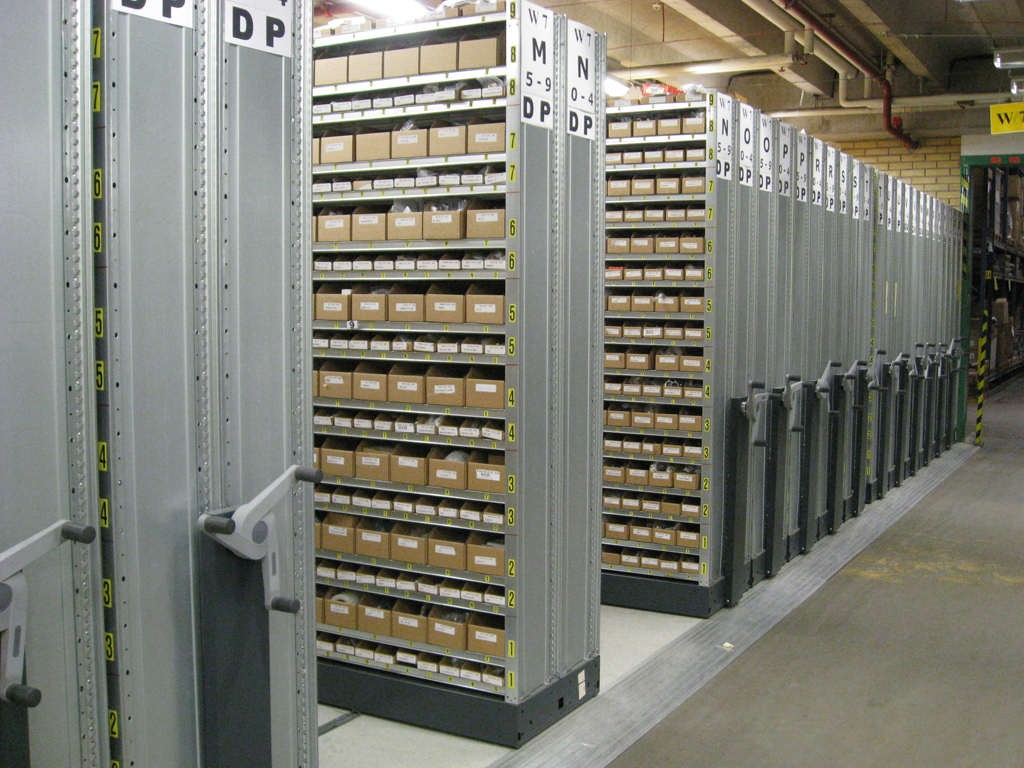 Hi280 – Multi Tier – Handling smaller parts
The shelving system Hi280 MultiTier, with an inserted platform, is a shelving structure constructed on 2 or more levels. The lower section of the shelving system supports the platform floor. The poles are suitable for heavy load and are large in dimensions so they can carry the load from the floor upwards. The shelving system is constructed as a multi-layer structure and is often used in large warehouses for spare parts or where storage requires a lot of items due to a small turnover.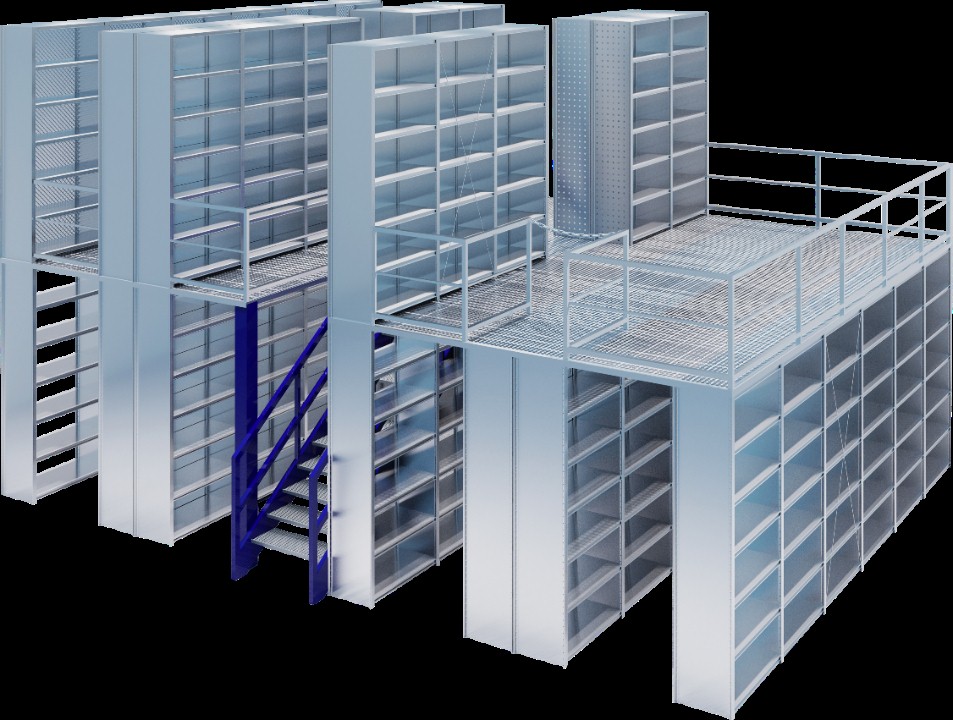 Standard wide aisle pallet racking
The most common form of pallet racking – a wide aisle shelving structure – allows for an unrestricted order picking system, unlimited access to all palettes, is suitable for all types of warehouses, and doesn't require specialized forklifts.
Wide aisle racking offers:
100 % access to individual pallets,
Universality – adjustable bearers provide the design of the system which can be adapted to all different sized pallets and increase space utilization,
The use of standard forklifts – cost-effective,
They are easy to install and move,
Excellent occupancy rate can be achieved.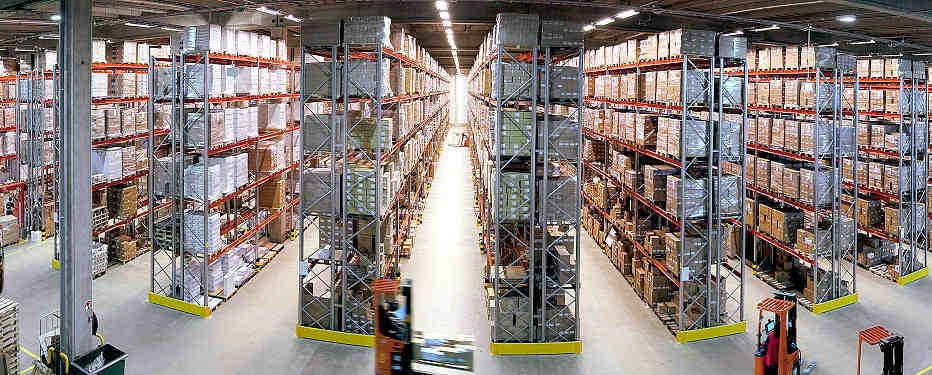 Drive In racking
Ideal for storing large quantities of same typed goods: the existing area can be used 90 % more efficiently than with the standard pallet racking systems.
Benefits:
High density storage – increases capacity on the racks in less space,
More pallets placed per cubic meter than with other warehousing systems
Limited rotation of goods – extremely suitable for seasonal goods,
Ideal for use in cold and refrigerated warehouses,
Access according to the principle first one in, last one out
Is used for large volumes of same typed goods.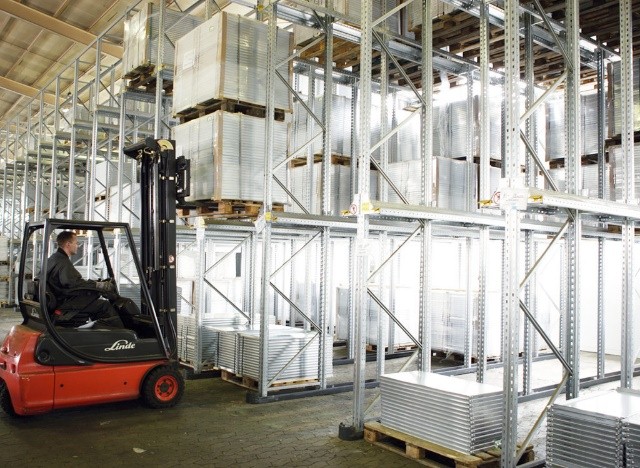 Movable MOVO shelving system
Reducing costs for new buildings, or a possibility of a more efficient utilization of existing storage space. MOVO, a system of movable pallet racks from the company Dexion, represents the best solution.
MOVO systems of movable racks for heavy loads with electric control move along the installed rails and can carry loads of up to 24 tons at stacking heights of up to 12 metres.
Benefits:
Maximum utilization of floor space – only one isle between the racks,
Saves up to 40 % compared to standard pallet racks,
Increases storage capacity up to 80 %,
Excellent occupancy rate reduces the electrical bill in cold warehouses,
100 % access to individual pallets,
Modular design is adaptable to individual requirements.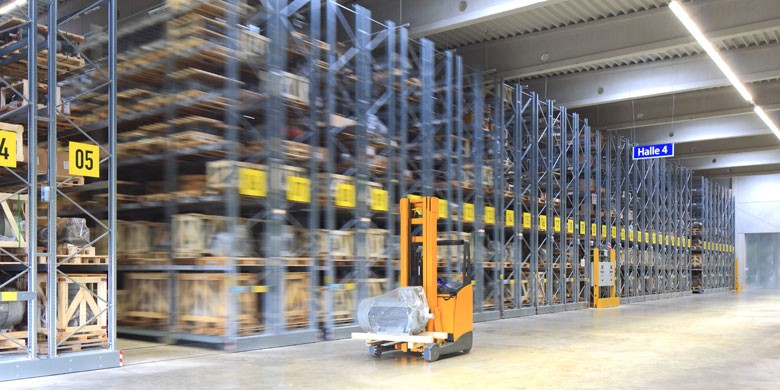 Shuttle system
Pallet Shuttle System is a semi-automatic solution for storing pallets inside the same channel, similar to the Drive In or Pallet Flow Racks. The Shuttle saves time, space and cost. It increases productivity and efficiency in your warehouse through intelligent warehousing technology.
Saves time and is cost-effective, eliminates the need for forklifts inside the hallways.

Benefits:
Increased storage capacity due to higher packaging density,
Maximum volume utilization at the low chamber level,
Optimization of material flow,
Quick access to products,
Reliable system, low maintenance,
Quick and efficient battery replacement for work in multiple shifts,
Increased productivity and efficiency of warehouse operations,
Fewer industrial trucks and lower operational costs,
Save time and space through the optimization of material flow.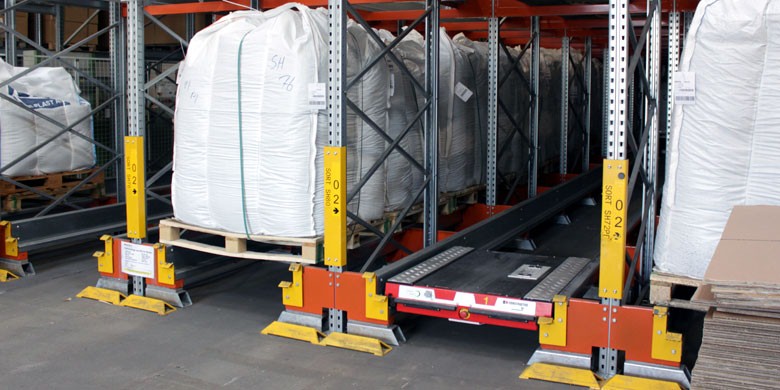 Console racks – Handling long goods
Console rack consists of poles and a foundation, together with horizontal handles with a limiter at the end. They create a full structure which can then be placed at various distances by using the horizontal spacers and diagonal brackets in order to create the complete structure.
Benefits:
A perfect system for the storage of long goods,
Safe and tidy storage of long and large goods,
Maximum utilization of horizontal space,
Suitable for outdoor and indoor use,
Length of shelve and distance between the profiles can be adjusted according to load,
Each system has been designed and produced according to specific customer needs,
Poles, mount and handles made from Europrofile IPE,
The latest software technology is used for securing an efficient design,
Console system is designed and produced according to the current European standards set by the organization FEM.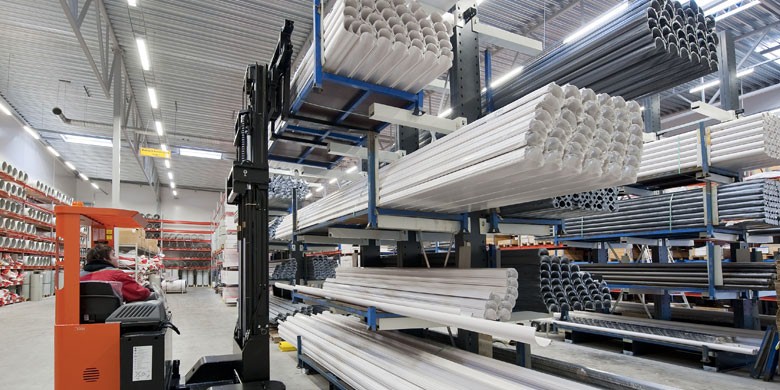 TORNADO storage elevator – Handling small goods
Computer controlled, vertical and horizontal storage machines are easily integrated in your current warehousing management system, but they also represent an efficient independent solution.
TORNADO elevation system is highly adaptable to specific work environments and offers the following benefits as a standard:
Saves up to 70 % of storage space,
Increases management efficiency up to 65 %,
Quick and accurate selection with up to 99,9 % item selection accuracy,
Low energy consumption and maintenance costs,
Special purpose, user friendly Windows based interface
Equipped with adjustable bearings for additional efficiency,
Light indicator for fewer mistakes,
Additional openings for the use on various floor levels,
Easy, paper-free order handling for warehouse logistics optimization.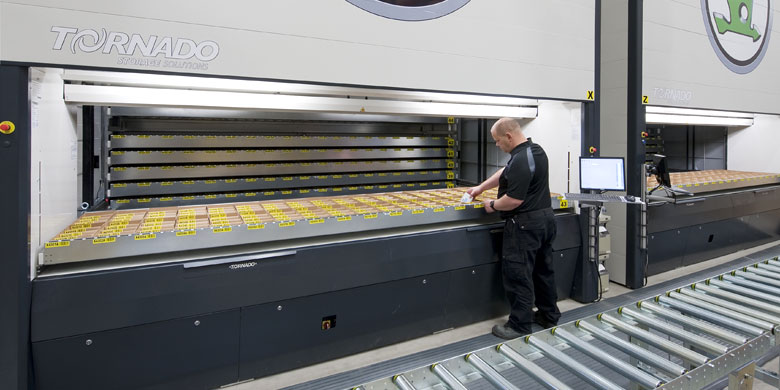 Platform systems
Storage and working area
ME250 platforms from the company Dexion enable cost-effective creation of additional floor space in existing buildings. Wonderful in their simplicity, the poles and beams of the easily constructed ME250 from the company Dexion can construct some of the largest floors for heavy loads. With the standard load of 1000kg/m2 and a range of 10 metres, Dexion ME250 is multipurpose for almost all customers.
Dexion ME250 platform is:
A more cost-effective solution compared to concrete,
Easy to construct,
Foldable and reusable,
Easily installed in existing buildings,
Light-permeable (with a steel grid floor),
Free-standing (without additional load on the construction poles),
Minimal additional pressure on the building floor.
Additional equipment
Fence
Employees must be provided a safe environment to work in. An important aspect is a solid fence surrounding each elevated floor, in accordance with the safety and inspection regulations.
Stairs
The stairs have been fully aligned with the fence, they have handlebars on both sides thus providing extremely stable stairs. There is a wide range of widths, corners and shapes.
Pallet gates
A wing gate offers firm protection. Since the wing gate is automatically closed with the help of a hidden stopping system, it is always securely closed. The forklift driver slowly pushes the pallet through the wing gate. Once the pallet has been removed, the gate automatically closes behind the pallet.
A sloping gate provides the best protection. Regardless of whether it is opened or closed, it is always safe.
Goods elevator
Instead of or in combination with the pallet gate, the transport of goods by an elevator can be a very efficient solution. Elevators are surrounded by walls providing safety, they can be called from any level and they have numerous safety characteristics and possibilities. There is a choice of elevators of different weights and sizes.
Flooring
With the platform, Hi280 shelf flooring or P90 pallet rack flooring there are several options when choosing the type of flooring.
Plywood flooring (38 mm thickness),
Steel grid flooring.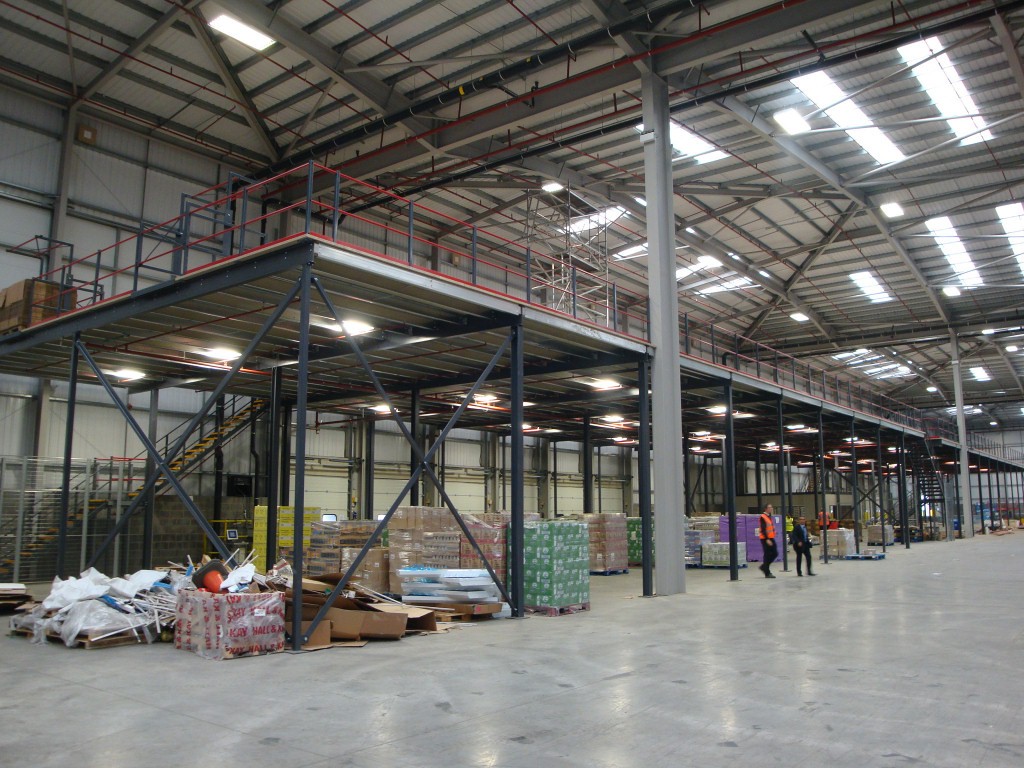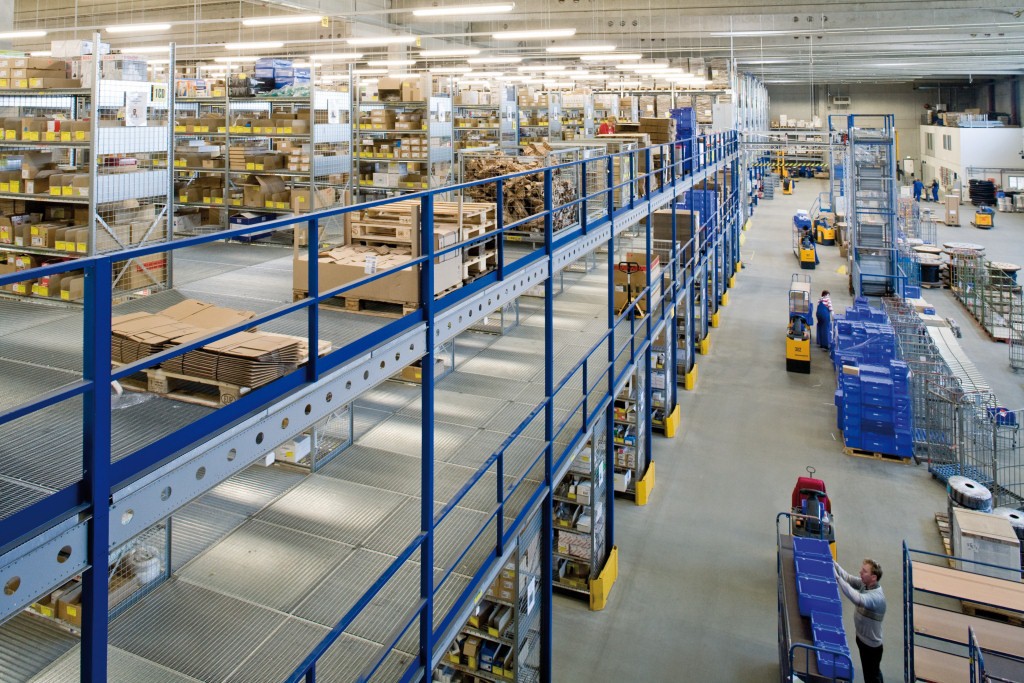 ---